AIR MECHANIC МТ5 is a software product of the "INTEGRAL" project, which implements convenient features for portfolio scalping with the ability to widely diversify trading risks.
The AIR MECHANIC trades one deal at a time, uses SL, and never uses dangerous methods of money management, such as martingale, locking, and averaging.
The Expert Advisor trades inside a calm price channel and trades the rebounds in the opposite direction from the channel borders. AIR MECHANIC MT5 uses a number of technical indicators, time filters, and other smart developments, which allow determining the most suitable segments of the chart, market conditions, days of the week, and time for trading.
The main idea of the EA is to provide the user with wide capabilities to compare and manage trading portfolios. With AIR MECHANIC МТ5 you receive the ability to:
Trade 12 currency pairs at the same time
Distribute risks between pairs with low correlation
Diversify risks by distributing the potential losses on a specific currency among different currency pairs
Recommended parameters for AIR MECHANIC MT5
Working timeframe: M15
Pairs: EURCAD, EURCHF, EURGBP, EURAUD, GBPUSD, GBPCHF, GBPAUD, GBPCAD, USDCHF, USDCAD, AUDCAD, AUDCHF
Minimum Deposit: $100 or above
Account type – "ECN"
VPS for stable connection to the broker server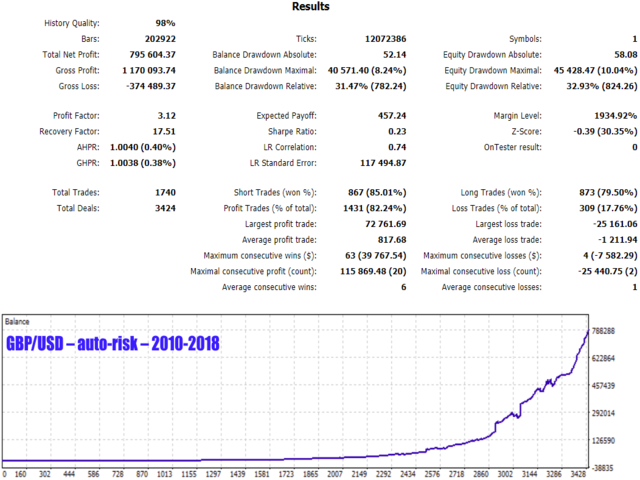 Parameters for manual adjustment
Comment – custom comment
Magic_number – order identifier
Max_Spread – maximum spread filter
Slippage – price slippage filter
The method of order execution – order execution type (depends on the broker's technology): ORDER_FILLING_FOK – orders are executed exactly in the specified volumes/ ORDER_FILLING_IOC – orders are executed with the maximum available volume within the volume specified in the order/ ORDER_FILLING_RETURN – execution only in "by the market" or "exchange execution" mode with the possibility of partial order execution)
Lots – order volume (works only if Auto_risk is set to "0.0")
Auto_risk – automatic risk calculation
Stop_loss – SL value
Take_profit – TP value
Strategy 2 (true/false) – enable/disable Strategy 2
Convert_range – width of the trading channel
Step_to_open – filter for opening orders after a channel breakout
Crazy_factor – an indicator of price reversal after a breakout
Method_converter – channel plotting method
Period_converter – channel period
Hi_level – upper boundary of the channel
Low_level – the lower boundary of the channel
Filter_deceleration – filter of price movement activity after a breakout
Crazy_factor_2 – an indicator of reversal on М30
Basic_direction – trend direction on М30
Direction_area – trend deviation filter
Risk_factor – secondary trend indicator
Time_filter_1 – enable the algorithm for closing orders by the time
Time_filter_2 – algorithm operation start time (the number of H1 candles after a rollover)
Time_filter_3 – algorithm operation end time (the number of H1 candles after a rollover)
Time_filter_4 – enable the algorithm for the forced closure of orders
Filter_movement_1 – flat indicator
Filter_movement_2 – trend slowing indicator
Filter_movement_3 – trend strength indicator
Period_small_direction – an indicator of trend on M1
Revolt_factor_1 – filter of price reversal on M1
Revolt_factor_2 – additional filter of price reversal on M1
Revolt_direction – an indicator of a channel on H1
Hi_level_1 – upper boundary of the channel on H1
Low_level_1 – the lower boundary of the channel on H1
Step_factor – an indicator of channel width on H1
Time_filter – filter of volatility on H1
MondayAM – true/false – if true, trading is allowed on Monday morning
StartTime – trading start time
stop time – trading end time
MondayPM – true/false – if true, trading is allowed on Monday evening
StartTime – trading start time
stop time – trading end time
The remaining time-filter settings are similar